Moderator
Posts: 354
Joined: September 9th, 2010, 11:14 am
The LA-B-V portion of my ride was a short segment......so the report is equally short......
I rode up to Sandy Valley Sat morning and met up with my friend Gil.......we rode into Vegas via the std LA-B-V tracks and a couple other wrinkles I knew about
Gil coming along a side trail I showed him between Sandy Valley and Mtn Springs (same ~1+ mile side trail I included in the Primm ride I set up last Spring......the one with the waypoint "Nice Truck" where there's an abandoned/rusted on truck off the trail)
The views coming down into in Red Rock Canyon never get old......surprisingly there was only a dusting of snow and ice.
Snapped a pic of Gil as we rode out of Red Rock Canyon on the road: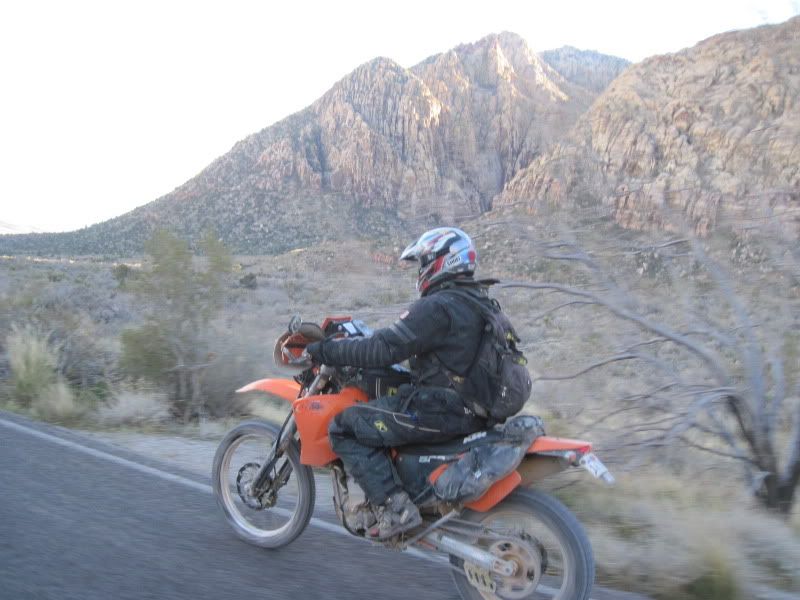 This pic should actually be captioned "
leaving
" Las Vegas......had a couple snap a pic of me when I rode out of Vegas on Sunday morning on my way back to Bullhead City, AZ.......the long/dirty way along Lake Mojave
......found some good "C.O.R.E." material between Cottonwood Cove along Lake Mojave and Christmas Tree Pass
......more on that in another report.....
Chris Crawford (Crawford + 4 kids = Crawdaddy)

http://www.CrawdadOffRoadEvents.com
09 KTM 300 XC-W - Dualsported Single Track Weapon
08 Yamaha WR250R - Dualsported Adventure/Fun
06 Honda CRF230F - Dualsported for family fun