Moderator
Posts: 354
Joined: September 9th, 2010, 11:14 am
I've finalized plans for the annual Spring Ride to Bar 10. I've pushed our originally reserved date of April 17-18 out two weeks to May 1st & 2nd to avoid conflicts at Bar 10 and also buy us some more time since the theme (hope) for this year is NO RAIN/SNOW/CLAY!
The revised dates
*should*
provide an additional hedge against rain/snow.
This ride is intended for "street" plated bikes/quads with street licensed riders - Navigation will be by GPS. More on that subject later.
I plan on lining up a truck/driver to shuttle SMALL over night bags, beer/soda to the Ranch (FYI, there is no
bar
at the Bar 10 Ranch
).
Gas is available at the ranch for double the prevailing rate in St. George (they have to truck it over from St. George)......so plan on ~$7/gallon (cash)
The cost for the Bar 10 portion of the club ride will be $135 pp for one night or $250 pp for 2 nights…….this covers shuttle of SMALL overnight bag to Bar 10 from Mesquite, lodging at Bar 10, dinner on Sunday, breakfast/dinner on Monday, breakfast on Tuesday.

Bonus - A sack lunch will be provided to everyone on Monday so we can eat our lunch over at the Toroweap viewpoint.


Payments are to be made direcly to the Bar 10. A depost of $135 pp is due no later than 31 January (to assure Bar 10 of the headcount so they don't book any other groups on our dates.......that way we'll have the place to ourselves
).......Payment of the balance of $115 pp will be due no later than 28 February....You're free to stay one night only, but I encourage everyone to stay two nights......you really don't want to miss the ride over to Toroweap/the views at Toroweap.



I'm limiting this club ride to 50 people - so call in ASAP with your deposit to avoid getting shut out


Bar 10 contact info - 435 628 4010 or 800 582 4139 "CORE Club Ride"
Tentative Plan:
Option
Drive to Primm Friday, April 29th.
Sat., April 30th - Ride over to Bonnie Springs for breakfast, swing through Red Rock Canyon/Mountain Springs on the way back to Primm or Good Springs, then drive up to Mesquite on Sat night. (A shorter/easier option is to drive from Primm to Good Springs on Saturday morning and loop from there). I enjoy this optional ride so I'll definitely be doing it......any/all are welcome to participate. I'll look into a group rate in Primm once I have a head count of riders interested in this optional day.
CORE Club Ride - Mesquite to Bar 10/Toroweap
Saturday, April 30th
Drive to Mesquite, NV. and stay the night (I haven't figured out where we're staying yet……working on swinging a group rate somewhere once the headcount is finalized)
Sunday, May 1st -
Ride to Bar 10 (~85 miles), refuel, drop down to the river view (~18 mile round trip), dinner at the ranch.
Teaser: Grand Canyon/CO. River View Pt near the Bar 10 Ranch:
Monday, May 2nd
Ranch breakfast, ride to Toroweap view point for lunch, ride back to the Ranch (~100 mile out and back). Optional paths to ride/drive over……Rocky trail between Petty Knoll and Slide Mtn, or easier/graded fire roads that head out to Trumbull School house before turning east past Mt. Trumbull……either path will take the riders up to ~7K' before dropping down to Toroweap
Teaser: Toroweap Viewpoint/picnic site: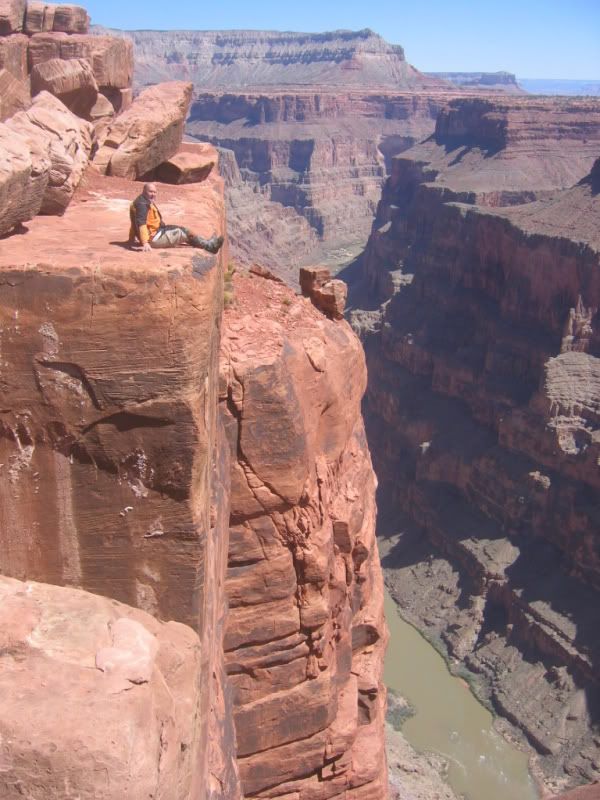 Tuesday, May 3rd
Ride back to Mesquite…….a few options for return path…….more on that later
Tuesday night – I'll likley just stay in Primm again rather than drive home........it's only ~$20 to stay midweek in Primm and you may be bushed after 3 or 4 ~100 days of riding
.........you can still jam into work by noon on Wednesday if you stay in Primm.......so I'd encourage everyone to relax/unwind Tuesday night and head into work refreshed on Wed.......or better yet, take Wed off too!
More Teaser pics:
Link to Zina's Trip Report from the 2010 ride:
http://dualsport-sd.com/forums/index.ph ... om-bar-10/
The Bar 10"in" list as of 1/28
1 Chris Crawford
2 Roger Sewell
3 Rex Roberson
4 Dale Jackson
5 Chris Nelson
6 Chris Nelson's Friend
7 Bill Hallstrom
8 Ronald Rickwald
9 Jonathan Rickwald
10 Ted Garrington
11 Janet Garrington
12 David Cummings
13 Rich Strauss
14 Bruce Belnap
15 Diane Belnap
16 Wayne Schmidt
17 Zina Powers
18 Don Dowis
19 Michael Shinkle
20 Kevin Henricksen
21 Jim Robinette
22 Shannon Robinette
23 Neil Winnemore
24 Rich Wohlers
25 Sean Tompkins
26 Erick Magnuson
27 Ben Eckwahl
28 Dean Howard
29 John O'Hanlon
30 Victor Hrock
31 Henry Mckinney
32 Larry Mckinney
33 Terry Eannetta
34 Brian Bezer
35 Laurie Bezer
36 Paul Hatten
37 Bill Anderson
38 Gregg Turk
39 Brian Holbrook
40 John Tallon
- - - - - - - - -
41 Dave Dempster
42 Kristopher Grable
43 Bob Laprade
44 Jim Martin
45 Russ May
- - - - - - - - -
46 Andrew McDaniel
47 Mike Braddy
48 Saul Spykerman
BAR 10 LODGING -
Reminder - there are 14 covered wagons (capacity 2/wagon) , 20 bunks in the lodge, and capacity for spill over on the main deck/under the stars.
ANY NEW REGISTRANTS
beyond the 42 currently signed up will be out on the main deck/under the stars in sleeping bags/on mats......along with me and Roger.....we'll probably need a few more deck volunteers unless some of you opt to double up in the wagons
20 guests will be in the bunkhouse (2 bunks or 4 guests/room). 7 wagons are available as single or double occupancy.
Chris Crawford (Crawford + 4 kids = Crawdaddy)

http://www.CrawdadOffRoadEvents.com
09 KTM 300 XC-W - Dualsported Single Track Weapon
08 Yamaha WR250R - Dualsported Adventure/Fun
06 Honda CRF230F - Dualsported for family fun